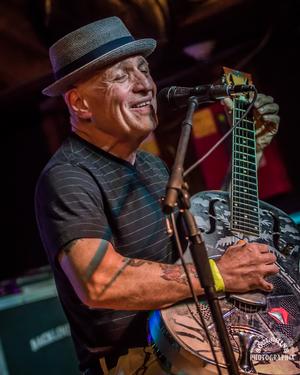 George Worthmore
Acoustic, Americana, Blues

NY Blues Hall of Fame inductee ,George Worthmore, a star in the New York City music scene for over twenty years, began with a one-year stint as a guitarist with Kinky Friedman. He's played backup guitar for Bo Diddley, Ben E. King, Screamin' Jay Hawkins, Lou Christy, and The Platters. He has also played shows as a second guitarist with Hot Tuna.
He emigrated to South Africa in 1997 where he owned and operated the world famous Blues Room, that country's number one, award winning, live music venue.
Since 2004 he has expanded his performing into film and TV and has acted with William H. Macy, Robert Vaughn, and Ron Perlman.
His current show is a tour de force of solo acoustic guitar, from Ragtime to Blues, with some Bach thrown in for the more serious appreciators of the instrument. The music is interlaced with humorous comments and amusing stories about the songs and his experiences.

In July of 2017 George won the regional International Blue Challenge and will compete representing SW Florida in the finals in Memphis in January 2018.

ROY BOOK BINDER " I'd sell my soul to the devil to play like George Worthmore"?
RICHARD SMITH, 2001 USA NATIONAL FINGER STYLE GUITAR CHAMPION "George is one of the few players with a deep understanding of real blues. He can burn through J.S. Bach and popular pieces but it's his traditional blues that sets him apart. Couple that with a great audience rapport and you've got an act that'll grab the immediate attention of ANY crowd....?
?
CUE MAGAZINE?
"...super-talented.."?
?
THE WOODSTOCK TIMES
"...the audience, half of them musicians, was going wild."

BLUES LIFE "Sanctified!"

JIMMY WEIDER(Guitarist with THE BAND)? "George is really a charismatic performer"

GOOD TIMES MAGAZINE
"A link in an unbroken chain."

DOYLE DYKES
"A fine picker. I'm totally impressed "
?
THE SWAZI OBSERVER?
"The audience started screaming immediately as he set foot on stage....impressive performance "


Upcoming Events
There are no upcoming events scheduled.



Previous Events