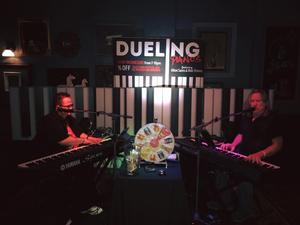 Dueling Pianos w/Rob Stoney & Allon Sams
Pop , R&B/Soul , Rock


Sing us a song, you're the piano man...

Enjoy a fun night of dueling pianos with Rob Stoney and Allon Sams. They will take your request and you can win free drinks and prizes! They play music from the 60's through today.

Upcoming Events
There are no upcoming events scheduled.



Previous Events


Wed, February 20, 2019
7 - 10 pm
Dunedin

Wed, December 19, 2018
7 - 10 pm
Dunedin

Thu, August 30, 2018
6:00 p.m. - 10:00 p.m.
Ft. Myers

Wed, May 23, 2018
7 - 10 pm
Dunedin

Wed, May 16, 2018
7 - 10 pm
Dunedin