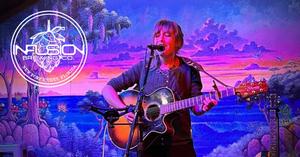 Becca Myari
Acoustic, Americana, Folk, World
Becca Myari is a New-England born singer-songwriter and multi-dimensional artist currently residing in Wherever-my-feet-are-standing-at-the-moment, FL. She draws inspiration from the natural world and incorporates acoustic percussive fingerstyle guitar, Irish pennywhistles, foot tambourine, shakers, beatboxing, a loop pedal, and powerful vocals into her performances, in a way that creates a completely unique and moving experience for people of all ages.

As a self-taught musician, she has developed a style that is unapologetically her own, and delivers it to audiences with a passion that, in her own words, comes "solely from a desire to heal and reconnect souls with the unconditional love that exists everywhere".

With her soulful voice, introspective lyrics, and innovative use of multiple instruments, Becca Myari is a rising star in the singer-songwriter world. Her music brings a sense of peace, wonder, and joy to audiences around the globe.

Upcoming Events
There are no upcoming events scheduled.



Previous Events