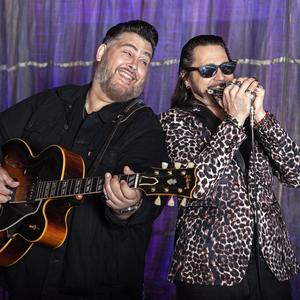 Blues guitar virtuoso Nick Moss and harmonica wizard Dennis Gruenling have been on a winning streak since they first joined forces in 2016. With relentless nonstop touring and the release of their Alligator Records debut, The High Cost Of Low Living, in 2018.

Their self-made lucky streak continued into early 2019, when down-and-dirty guitarist Moss – a 30-year veteran of Chicago's take-no-prisoners rough and tumble West and South Side blues clubs – won the Blues Music Award (BMA) for Traditional Blues Male Artist Of The Year. Gruenling, one on the hottest players on the scene today, took the BMA for Best Instrumentalist – Harmonica. And now, with the odds heavily in their favor, they unleashed their dynamic new album, Lucky Guy!.

"When the band and I get on stage," says Moss, "the music takes over. We can't hold back and the energy just comes pouring out. We get carried away and the audience gets carried away with us." And once that happens, everyone is in luck.

Upcoming Events
There are no upcoming events scheduled.



Previous Events
Venue
Date
Vinoy Park
St. Petersburg
Tampa Bay Blues Fest
April 10, 2022
4:30pm - 6:00pm
$Tickets