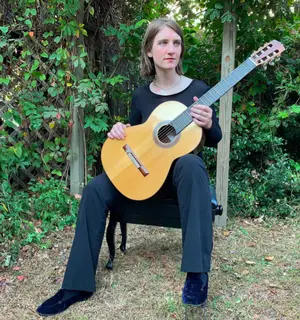 Liz Hogg
Alternative, Classical/Opera/Vocal, Indie, Rock

American guitarist & composer Liz Hogg has been described as "writing independent music that doesn't reflect the trends," "uniquely her own," (I Heart Noise) and "playing with a more distinctive and original approach that includes quickly-strummed chords, chiming arpeggios, and rapid-fire picking" (Geoff Cabin). Her playing has been further characterized as "strong, precise, and powerful" (Bushwick Music Daily), "radiating in its own light" (New Noise Magazine) and "[displaying a] confrontational spectrum of emotions" (Music & Riots).

As a classical guitarist and performer of her own mostly-electric guitar music, Hogg has toured twelve countries playing numerous festivals and concert halls. She has won awards including the Mannes School of Music Dean's Award as well the Maurice Kagan Memorial Scholarship Award for Excellence in an Orchestral Instrument (first guitarist recipient), and was a Fulbright-García Robles Scholarship semi-finalist. Hogg was also the first American to win a fellowship for performance and study at the Lanciano International Guitar Festival in Italy and has received grants from the Peter M. Gross fund and Queens College.

Upcoming Events
There are no upcoming events scheduled.



Previous Events