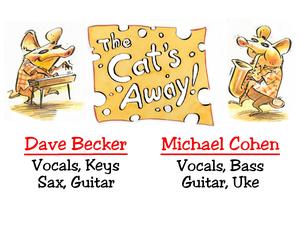 The Cat's Away
Classic Rock, Country, Jazz, R&B/Soul

The mighty duo of Dave Becker and Michael Cohen play classic rock, pop, jazz, country, soul, etc... with harmonizing vocals guitar, bass, sax and keys. Tunes from Stevie Wonder, The Beatles, Tom Petty, Ed Sheeran, Wilson Picket, Jimmy Buffet, Queen, Elvis Presley, Johnny Cash, Dean Martin, Herbie Hancock, Louis Jordan, Antonio Carlos Jobin, ELP, Billy Preston, Bob Marley, Jimmy Cliff, Duke Ellington, Thelonius Monk... Diane Becker on vocals and other players can be added. Full DJ library available.

Upcoming Events
There are no upcoming events scheduled.



Previous Events