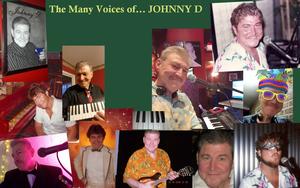 Johnny D
60's Beach Rock, Beatles, Classic Rock, Country

Solo Performer, Singer/Musician, Piano Man, One-Man-Band, Open Mic, Dance DJ, Karaoke DJ, Emcee.

"LIVE" Music "One Man Band" (sings and plays keyboard along with tracks...sounds like a full band, but costs much less!!
Pianist/Soloist: Johnny D can play instrumental piano during your cocktail hour or wedding ceremony.

A Pro Party DJ - To add variety after the live music, Johnny D becomes the Party DJ to play all your dance favorites! (Line Dances etc.) Karaoke is also available if you like!

A Pro MC - Johnny D has been the MC for hundreds of parties & weddings. He has a fun personality and sense of humor.

Note: Any combination of the services listed above is available!

Performing in the DC area for decades. At both "Piano Bar" and "One Man Band" shows, audiences have been entertained by this natural & fun performer! Johnny D is a "rock-solid" musician on the piano, and an extremely versatile vocalist.

Johnny D is available to provide quality musical entertainment for all occasions.
Wedding ceremonies & receptions, Parties (birthdays, anniversaries, graduations, retirements, reunions, Back yard Bar-B-Ques etc..

Johnny D has the ability to entertain all ages! He can "read the crowd" and keep the music just right for any event. Johnny Dee will "keep 'em dancin'! And keep the party going! He will consult with clients before their events to find out their musical preferences. To find out the music they prefer to hear, along with the music they DON'T want to hear at their events!

Johnny D is well known for his attention to detail, professional quality sound systems, and reliability. And best of all, he encourages everybody to have a good time!

Upcoming Events
There are no upcoming events scheduled.



Previous Events
Venue
Date
The Social
New Port Richey
Tue, December 24
5-8:30 PM

The Social
New Port Richey
Tue, December 17
6PM-9PM

The Social
New Port Richey
Tue, December 10
6PM-9PM

The Social
New Port Richey
Tue, November 19
6PM-9PM

The Social
New Port Richey
Tue, November 12
6PM-9PM