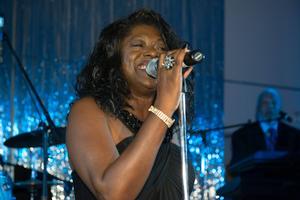 Verceal
Blues, Jazz, R&B/Soul, Rockin Blues

Verceal started her career in Chesapeake, Virginia as a member of the Dawson Singers. She sang with several recording artists before joining The Platters 1992-2000 and traveled extensively throughout the United States and Canada as a member of the show band "Attraction". She is blessed with a beautiful voice and an extraordinary vocal range. Verceal graced The Platters as its first lady and is described as a true lady both onstage and off. Over the past twelve years Verceal has shared the stage with the Temptations, Spinners, Drifters, Coasters, Wilson Williams Platters, Gary Pucket, Alan James Powerhouse, Pointers Sisters, Percy Sledge, Supremes, Contours, Dan Toler of the Allman Brothers, Tucci Band, Foreigner. Verceal has performed at the Rainbow Room in NY, The Apollo in Harlem, Las Vegas, LA,
Japan, Philipines, Australia, all over the world.

Upcoming Events
There are no upcoming events scheduled.



Previous Events