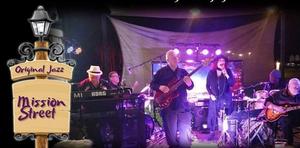 Mission Street Jazz Band
Jazz

Mission Street is a 6-piece band composed of musicians living in west central Florida. Their primary sound is jazz, both instrumental and vocal.

Mission Street band consists of:
Joe Dorreman: Guitars and Vocals
Nadine Joy: Vocals and Percussion
Tony Basille: Keyboards
Hercules Mack: Percussion and Vocals
Bernie Rogers: Bass Guitar and Bass Guitar Synthesizer
Steve Koch: Drums

Mission Street's goals are to create original content for the listener's pleasure and relaxation. This is accomplished by playing select live-music venues and by marketing through various multimedia formats including radio airplay, TV and radio commercials, music subscription services, and online streaming.

Mission Street's first album "Transformation" is available in CD format through Cd Baby; through digital download on iTunes and Amazon; and via streaming on Spotify.

Upcoming Events
There are no upcoming events scheduled.



Previous Events


Thu, June 20, 2019
6:30 PM
Hernando Beach

Thu, May 16, 2019
7 pm
Hernando Beach

Thu, March 21, 2019
6:30-9:30 pm $No
Hernando Beach