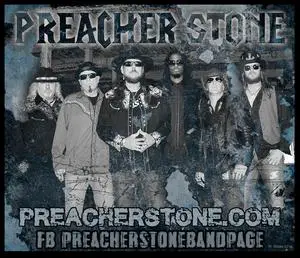 Preacher Stone
Southern Rock

"You can call us anything but an overnight sensation…" proclaims Preacher Stone in their song "Day Late" from their third independent release "Paydirt" (produced by Bruce Irvine: Guns and Roses, Bon Jovi, Whitesnake.)

It's s a powerful collection of songs about real life that captures the band's energy and relentless passion.

The band's success and critical acclaim has been hard won and well-deserved. Preacher Stone first garnered the attention of the Americana Rock World with their music appearing on 2 seasons of the FX Hit Series - Sons of Anarchy.

This recognition led to 4 Lynyrd Skynyrd Simple Man Cruises, as well as an appearance on NAHA's Rock Legends Cruise as one of the hottest new bands up and coming!

The recipe for their growing success: Great music, powerful live performances and the relationship they have with their fans . Since the release of PAYDIRT, things have been non-stop for the band.

Upcoming Events
There are no upcoming events scheduled.



Previous Events