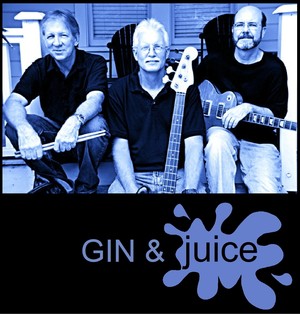 Music

The music of the Gin & Juice Band is just plain, blues based fun! Although we are a cover band, we lend our own flavor, often changing up arrangements and the feel of familiar tunes. We share a broad mix of musical tastes, and influences, including New Orleans roots, Jazz, Soul, Funk, Rock, a little Country and of course, the Blues!

Jim Groves: Bass, Vocals, Harmonica.
Jim has performed locally in Sarasota, as well as Kokomo, Muncie and Indianapolis, in his home state, Indiana. An accomplished musician, Jim also performs solo gigs on acoustic guitar.

David Lowe: Guitar & Vocals.
A native of Holmes Beach, Dave has been part of the local area music scene for long time. In addition to the usual full roster of guitar greats, Dave's musical inspiration is deeply rooted in jazz.

Dale Harris: Drums.
Dale is from Missouri, where he played the syncopated rhythms of Soul-Funk-Motown in a big band with full horn section. Prior to forming Gin and Juice, Dale could be seen sitting-in at various jam sessions around Sarasota.

Upcoming Events
There are no upcoming events scheduled.



Previous Events