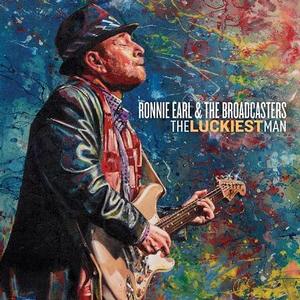 Ronnie Earl and the Broadcasters
Blues
Ronnie considers blues guitarist and vocalist Otis Rush as having the greatest musical influence on his life, as well as Magic Sam, Guitar Slim, Jimmy McGriff, Jimmy Smith, Grant Green, Thelonious Monk, John Coltrane and Wes Montgomery, all of whom have deeply and profoundly shaped and inspired his playing. Ronnie is a now a three-time (1997,1999, 2014) W.C. Handy Blues Award winner, renamed the Blues Music Awards, as Guitar Player of the Year. He has served as an Associate Professor of Guitar at Berklee College of Music, taught for five years at the National Guitar summer workshop in Connecticut, and has given private lessons. In 1995 Ronnie released Ronnie Earl: Blues Guitar with Soul, an instructional VHS tape that was then rereleased in DVD format in 2005.

From his own introduction to music at age ten to introducing a young ten-year-old to a world of music, Ronnie Earl has made his hopeful spirit and presence felt.

These days Ronnie is healthy, happily married and playing with the Broadcasters in New England, the East Coast, occasional trips to the Midwest and to Canada. He played frequently at the First Baptist Church of Littleton, MA, as well as playing for children and adults with special needs, benefits for cancer research and programs that serve the homeless population.

Upcoming Events
There are no upcoming events scheduled.



Previous Events
Venue
Date
Vinoy Park
St. Petersburg
Tampa Bay Blues Fest
April 8, 2022
4:30pm - 6:00pm
$Tickets
Palladium Theater
St. Petersburg
Tampa Bay Blues Fest Kick-off Party
April 7, 2022
8:00pm - 9:30pm
$Tickets
Vinoy Park
St. Petersburg
April 7, 2018
6:30-8:00pm Tampa Bay Blues Fest
$Tickets