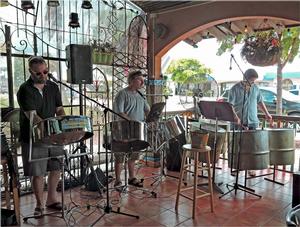 Sarasota Steel Pan Band
Jazz, Latin, Rockabilly, Swing

A group of professional musicians creating tropical music with a wide musical range of seven steel pans, also known as steel drums. Add something special to your next event!

The Sarasota Steel Pan Band performs as a traditional steel band, consisting of vocals, a lead pan, rhythym pans (aka double seconds), bass pans, and a percussion player. They also perform as an "electric" band. This setup includes vocals, lead pan, guitar, drums, and bass.

The Sarasota Steel Pan Band plays a wide variety of music, genres include but aren't limited to calypso, reggae, afrocuban, jazz, latin, brazillian, rock, pop, and childrens songs. They cater to all crowds and energy levels. They can provide intimate background music for mellow occasions, or they can get a crowd on their feet while performing on a big stage!

Upcoming Events
There are no upcoming events scheduled.



Previous Events