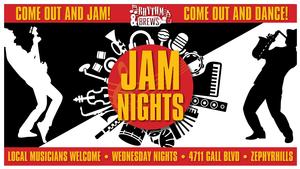 Jam Nights
Blues , Jam Band , Rock


Are you a musician? Do you want to jam with others in an environment where collaboration is promoted and supported? Do you want to hear organically inspired music crafted on the spot ? Come out on Wednesdays !

Upcoming Events
There are no upcoming events scheduled.



Previous Events


Wed, November 13, 2019
6 - 10 pm $Billy solo and friends
Palm Harbor

Wed, November 6, 2019
6 - 10 pm $Billy solo and friends
Palm Harbor

Wed, October 30, 2019
6 - 10 pm $Billy solo and friends
Palm Harbor

Wed, October 23, 2019
6 - 10 pm $Billy solo and friends
Palm Harbor

Wed, October 16, 2019
6 - 10 pm $Billy solo and friends
Palm Harbor