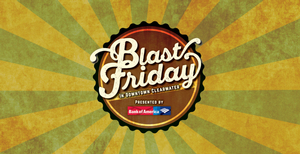 Blast Friday Clearwater
Blues, Rock, Rockin Blues, Southern Rock


This food and crafts festival features a free live concert every month located in the Cleveland Street District. Food trucks and vendors will be serving a wide variety of freshly prepared specialty food and beer, wine and non-alcoholic beverages that will be available for purchase. Concert goers are welcome to bring their lawn chairs to watch the concert. A limited number of VIP and SUPER VIP packages are on sale now.

Upcoming Events
There are no upcoming events scheduled.



Previous Events


Fri, May 26, 2017
5:30-10:00 $Free
Clearwater

Fri, April 28, 2017
5:30-10:00 $Free
Clearwater