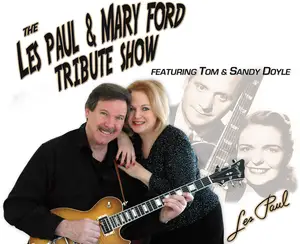 Les Paul & Mary Ford Tribute Show
Americana, Jazz


LES PAUL & MARY FORD TRIBUTE SHOW – A LES PAUL RETROSPECTIVE

Starring Tom and Sandy Doyle

COME WITNESS HISTORY ~ Les Paul was the Godfather of the electric guitar and inventor of multi-track "sound on sound" recording. A musical pioneer, inventor, and innovator that literally changed the music as we know it, forever. Come see Tom Doyle, Les Paul's right hand man of over 45 years play Les Paul's hits and show you how "The Master" did what he did. Don't miss a once in a lifetime opportunity to get an up close and personal view of the one and only Mr. Les Paul.

Upcoming Events
There are no upcoming events scheduled.



Previous Events


Sat, March 17, 2018
6:30 to 9:30 $no cover
Sarasota

Thu, March 15, 2018
7 to 10:00 $no cover
Bradenton Beach

Thu, February 15, 2018
7 to 10:00 $no cover
Bradenton Beach

Sat, February 10, 2018
6:30 to 9:30 $no cover
Sarasota

Tue, January 23, 2018
6 to 9 $no cover
Bradenton