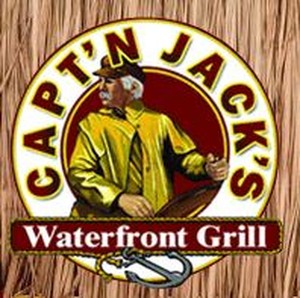 Captain Jack's Waterfront Grille
21 Oscar Hill Road
Tarpon Springs, FL 34689
(727) 944-3346
Map View:
Click here
Escape to a simpler time; Tropical, laid-back old Florida waterfront dining. Whether you're visiting or live in the area, get away to paradise any day of the week. Enjoy the largest tiki bar in Tarpon Springs! Featuring live music, dinner, drink specials, and breathtaking sunsets..
Capt'n Jack's always has the freshest seafood from local fishermen as well as, pasta, steaks, and more. It's all about Good Food, Good Fun, and the best water front dinning in Tarpon Springs. Come dock your boat and enjoy our new menu.

Upcoming Events


Ray/Ray
Fri, August 18, 2017

Big 12 Duo
Sat, August 19, 2017

Bob Frierson
Sun, August 20, 2017


Brother Len Solo
Thu, August 24, 2017

Derek Sivers
Fri, August 25, 2017

Be4Hand Acoustic
Sat, August 26, 2017

Sun, August 27, 2017
3:00 p.m.- 7:00 p.m.
Rock

Mon, August 28, 2017
6:00 p.m. - 9:00 p.m.
Acoustic


Thu, September 28, 2017
5-8pm - Solo Acoustic Classic Rock
Classic Rock




Past Events



Mon, August 14, 2017
6:00 p.m. - 9:00 p.m.
60's Beach Rock

Sun, August 13, 2017
3-7pm - Solo Acoustic Classic Rock
Classic Rock

Cabana Dogs
Sat, August 12, 2017