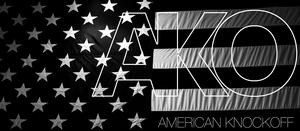 American Knockoff
Alternative, Country, Hip-Hop/Rap, Pop, Rock, Southern Rock


American Knockoff (formerly Suckerpunch) stomps around Central Florida entertaining patrons with identifiable tunes (yes, covers). AKO have set no limitations on the material they perform. Their catalog currently spans over several decades and genres of popular songs (again, covers). AKO consists of Greg (Vocals/Guitar), Joey (Guitar/Vox), Jerry (Bass/Vox) and Randy (Drums). Although the band is primarily known for playing cover tunes with their own signature on them, the band has recently began to incorporate original compositions into their catalog.

AKO has realmed the Lakeland/Tampa the scene for the last 2 years and have quickly made an impression on the local patrons.

Upcoming Events
There are no upcoming events scheduled.



Previous Events


Sat, May 7, 2016
9:30 PM
Riverview

Thu, March 17, 2016
8pm-12pm $0.00
Lutz

Sat, March 5, 2016
4:30 pm
Tampa

Thu, December 31, 2015
9:00 PM $0.00
Lakeland

Fri, November 20, 2015
9:00 PM $0.00
Valrico