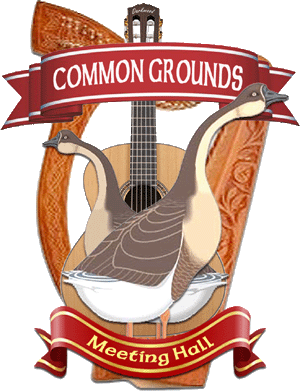 Common Grounds Meeting Hall
12735 Tamiami Trail S.
North Port, FL 34287
(813) 765-2432
Map View:
Click here
A marriage of the Irish meeting halls of Dublin with the New York coffee houses of the 1960's.

At night, it's a small, 80 seat, intimate performance venue with a state of the art sound system for acoustic musicians, poets, comedians and performers. Expect great music from top name, touring and local talent, along with gourmet coffee and stale donuts.

During the day, it's a meeting hall for a wide range of community and civic groups, educational classes and conferences.

BYOB Beer/Wine

Upcoming Events



Sally Barris
Fri, August 25, 2017

Swearingen & Kelli
Sat, August 26, 2017

MOVIE PREMIERE: Africa 2017
Tue, August 29, 2017

MOVIE PREMIERE: Africa 2017
Thu, August 31, 2017

Derek Warfield & the Young Wolfe Tones
Thu, September 14, 2017

Rob Garcia - Back With A Vengeance - TOO!
Fri, September 15, 2017

RJ Malloy - The Compleate History of Irish Music in 60 Minutes
Sat, September 16, 2017

James Hawkins: Tales From Horse & Chaise
Fri, September 22, 2017

Carey Chaney
Sat, September 23, 2017

Claude Bourbon
Fri, September 29, 2017

Francesco Returns
Sat, September 30, 2017

Daryl Shawn - RETURNS
Sat, October 21, 2017

NMBR11 - Pronounced Number 11
Fri, November 3, 2017

Alan Maskell
Sat, November 4, 2017

The Masons
Fri, November 10, 2017

Rick Hardeman
Sat, November 18, 2017

John Emil
Fri, December 1, 2017

Bob Kraemer's Birthday Bash
Sat, December 2, 2017

John Howard
Sat, December 9, 2017

Pierce Pettis
Sat, December 16, 2017

Bill Mullen - The COMING & GOING Tour #1
Thu, January 4, 2018

Heather Pierson
Thu, January 11, 2018

Bill and Eli Perras: More Stories/More Fun
Fri, January 19, 2018

Ellen Bukstel
Sat, February 10, 2018

Ron Renninger
Fri, February 16, 2018

Glenn Roth
Sat, February 17, 2018

Bill Mullen - The COMING & GOING Tour #2
Thu, March 1, 2018

Doug MacLeod
Sat, March 3, 2018

Tim Farrell
Sat, March 10, 2018

Shawna Caspi - Direct from Canada
Fri, March 16, 2018

Jefferson Ross
Fri, April 13, 2018




Past Events


Bill & Eli Perras
Sat, July 29, 2017

Rob Garcia - Back with a Vengeance
Fri, July 21, 2017

Charli & the Copper Coils
Sat, July 15, 2017

Jim Scott
Thu, June 29, 2017

Songwriters In The Round
Sat, June 24, 2017