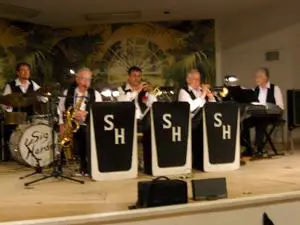 YMCA Frank G. Berlin Sr. Branch
1075 S. Euclid Ave.
Sarasota, FL 34237
(941) 955-8194
Map View:
Click here
Full Variety of Dance Music

Upcoming Events
There are no upcoming events scheduled.



Past Events


Dale McGrew & The Island Band + DJ Halloween Dance Party. Fun with or without costume. Prizes.
Sat, October 28, 2017

The Sig Harder Band + DJ
Sat, October 21, 2017

The Sig Harder Band + DJ (Grand Restarting of Saturday Dance Parties)
Sat, September 23, 2017

The Sig Harder Band + DJ Last Dance of Summer 'til restart Sep.23 Don't miss this special 'till we meet again Dance Party
Sat, July 29, 2017

The Tony Benade Band plus DJ
Sat, July 22, 2017