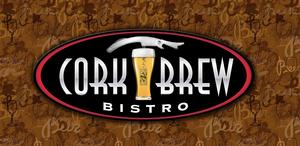 Cork and Brew Clearwater
524 Mandalay Ave.
Clearwater, FL 33767
(727) 239-0833
Map View:
Click here
Enjoy a day at the beach and an evening at the Cork N Brew Bistro. A place where friends meet for an exotic tasting experience. With unique beers and wines both local and from abroad you are sure to find the perfect taste for your pallet. We also offer a range of appetizers and light tapas to compliment your beer or wine selection. Our signature lava rocks menu selection are a fun and unique way to enjoy a delicious meal. We look forward to seeing you soon! Our outdoor patio is also dog friendly!! The Cork N Brew Crew is ready to please!!!

Upcoming Events







Sat, July 14, 2018
8:00 p.m. - 11:00 p.m.
Acoustic


Sat, July 28, 2018
8:00 p.m. - 11:00 p.m.
Acoustic




Past Events






Keegan Ritz
Sat, May 19, 2018