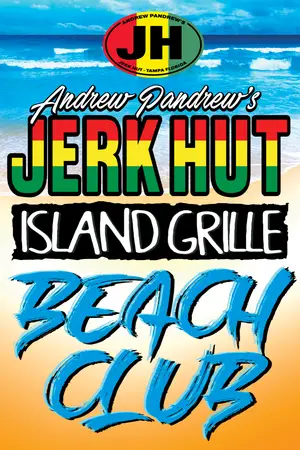 Jerk Hut Island Grille and Beach Club
1241 E Fowler Ave
Tampa
Tampa, FL 33612
(813) 977-5777
Map View:
Click here
Jerk Hut Jamaican Grille and Beach Club is located in the University Area. Modern tropical decor combined with an island flavor sets the place for an upscale dining and entertainment experience. To top it off, we run a full scratch kitchen serving up authentic Jamaican dishes,
caribbean fusion of some of your favorites such as our amazing Jerk Burger and Rasta Pasta and our own juices and drinks. Our rum bar features hand crafted tropical cocktails that will take you back right to the beach in Montego Bay. Check us out!

Upcoming Events
There are no upcoming events scheduled.



Past Events
Artist
Date
Jah Movement
Funk, Hip-Hop/Rap, R&B/Soul, Reggae
Good Vibes Reggae Dinner Show
April 1, 2023
08:00 PM - 03:00 AM
$20 Admission
Iruption Reggae & Dj Kirky C from Poison Dart Sound

All nations Link Up with Dj Kirky C and Iruption Reggae Band
September 17, 2022
8:00pm - 3:00am
$8 pm - 12 free live reggae party on the patio
Kompa Djs Haitian food Available

Kompa Party under the stars @ jerk Hut
September 10, 2022
10:00pm - 3:00am
Jah movement band

good vibes reggae show @ Jerk Hut
September 3, 2022
10:30pm - 3:00am
POWERLINE SOUND HD & DJ SPICE

TRINIDAD & TOBAGO Independence Party
August 27, 2022
10:00pm - 3:00am
$20