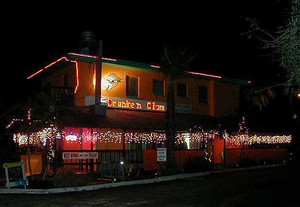 Drunken Clam
46 46th Avenue
St. Pete Beach, FL 33706
(727) 360-1800
Map View:
Click here
The Drunken Clam is a small beach bar in the city of St. Pete Beach. We are located at 46 46th Avenue, St. Pete Beach, Florida, just south of Dolphin plaza behind the Dairy Queen.

Normal business hours are 11 am till 2 am.

We like music too!
Normal start times for music are as follows: Sunday through Wednesday 8 pm.
Thursday through Saturday 9 pm.

The cajun wings, burgers, shrimp and nacho's are out of this world!!!

Upcoming Events
Artist
Date
Taria Lee & Marty
Acoustic, Classic Rock, Country, Pop
Taria Lee & Marty Duo
Sat, June 24
7:00pm - 11:00pm
Taria Lee & Marty
Acoustic, Classic Rock, Country, Pop
Taria Lee & Marty Duo
Sat, July 22
7:00pm - 11:00pm
Taria Lee & Marty
Acoustic, Classic Rock, Country, Pop
Taria Lee & Marty Duo
Sat, August 26
7:00pm - 11:00pm
Taria Lee & Marty
Acoustic, Classic Rock, Country, Pop
Taria Lee & Marty Duo
Sat, September 23
7:00pm - 11:00pm
Taria Lee & Marty
Acoustic, Classic Rock, Country, Pop
Taria Lee & Marty Duo
Sat, October 28
7:00pm - 11:00pm
Taria Lee & Marty
Acoustic, Classic Rock, Country, Pop
Taria Lee & Marty Duo
Sat, November 25
7:00pm - 11:00pm
Taria Lee & Marty
Acoustic, Classic Rock, Country, Pop
Taria Lee & Marty Duo
Sat, December 23
7:00pm - 11:00pm
Taria Lee & Marty
Acoustic, Classic Rock, Country, Pop
Taria Lee & Marty Duo
Sat, January 27
7:00pm - 11:00pm
Taria Lee & Marty
Acoustic, Classic Rock, Country, Pop
Taria Lee & Marty Duo
Sat, February 24
7:00pm - 11:00pm
Taria Lee & Marty
Acoustic, Classic Rock, Country, Pop
Taria Lee & Marty Duo
Sat, March 23
7:00pm - 11:00pm
Taria Lee & Marty
Acoustic, Classic Rock, Country, Pop
Taria Lee & Marty Duo
Sat, April 27
7:00pm - 11:00pm
Taria Lee & Marty
Acoustic, Classic Rock, Country, Pop
Taria Lee & Marty Duo
Sat, May 25
7:00pm - 11:00pm
Taria Lee & Marty
Acoustic, Classic Rock, Country, Pop
Taria Lee & Marty Duo
Sat, June 22
7:00pm - 11:00pm
Taria Lee & Marty
Acoustic, Classic Rock, Country, Pop
Taria Lee & Marty Duo
Sat, July 27
7:00pm - 11:00pm
Taria Lee & Marty
Acoustic, Classic Rock, Country, Pop
Taria Lee & Marty Duo
Sat, August 24
7:00pm - 11:00pm
Taria Lee & Marty
Acoustic, Classic Rock, Country, Pop
Taria Lee & Marty Duo
Sat, September 28
7:00pm - 11:00pm
Taria Lee & Marty
Acoustic, Classic Rock, Country, Pop
Taria Lee & Marty Duo
Sat, October 26
7:00pm - 11:00pm
Taria Lee & Marty
Acoustic, Classic Rock, Country, Pop
Taria Lee & Marty Duo
Sat, November 23
7:00pm - 11:00pm
Taria Lee & Marty
Acoustic, Classic Rock, Country, Pop
Taria Lee & Marty Duo
Sat, December 28
7:00pm - 11:00pm



Past Events
Artist
Date
Taria Lee & Marty
Acoustic, Classic Rock, Country, Pop
Taria Lee & Marty Duo
May 27, 2023
7:00pm - 11:00pm
Taria Lee & Marty
Acoustic, Classic Rock, Country, Pop
Taria Lee & Marty Duo
April 22, 2023
7:00pm - 11:00pm
Taria Lee & Marty
Acoustic, Classic Rock, Country, Pop
Taria Lee & Marty Duo
March 25, 2023
7:00pm - 11:00pm
Taria Lee & Marty
Acoustic, Classic Rock, Country, Pop
Taria Lee & Marty
November 26, 2022
7:00pm - 11:00pm
Alex And Moore Duo
Acoustic, Classic Rock, Easy Listening
August 17, 2022
7:00pm - 11:00pm
$0