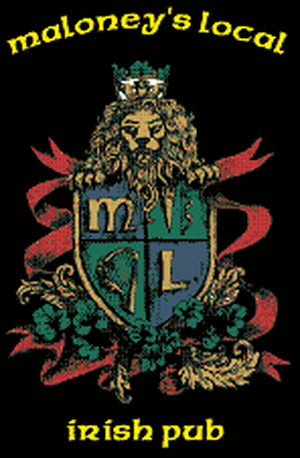 Maloney's Irish Pub - Westchase
9540 W. Linebaugh Ave.
Tampa, FL 33626
(813) 749-0859
Map View:
Click here
Maloneys invites you to raise a pint, chat up a friend. The word pub originates from the term public house which references a community gathering place or focal point within the community for socializing and sharing stories, daily events, and in our case, great food with a great beverage.

Upcoming Events
There are no upcoming events scheduled.



Past Events
Artist
Date
Wilkins Music
Acoustic, Alternative, Jam Band, Rock
January 24, 2020
5 pm - 8 pm
Ryan Marchand
Alternative, Funk
January 11, 2020
10pm - 1am
Ryan Marchand
Alternative, Funk
November 29, 2019
5:30-8:30
Dear Augustine
Acoustic
July 27, 2019
9:45-12:45
Wilkins Music
Acoustic, Alternative, Jam Band, Rock
February 22, 2019
5:30 pm - 8:30 pm