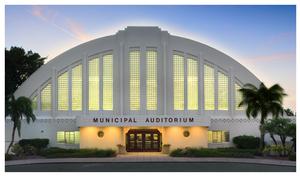 Sarasota Municipal Auditorium
801 N. Tamiami Tr.
Sarasota, FL 34236
(941) 954-4165
Map View:
Click here
The historic Sarasota Municipal Auditorium is a unique multi-purpose facility owned and operated by the City of Sarasota. The Auditorium has 10,000 square feet of potential exhibit space. In addition to the main floor there is a 1,500 square foot stage.

Upcoming Events
There are no upcoming events scheduled.



Past Events




Tue, December 31, 2019
9pm-1am Sarasota's Biggest NYE!!
High Energy Dance

Mylon Shamble
Mon, December 31, 2018
9pm NYE Illumination Party

Jonathan Cortez **Inactive as of 1/9/20
Mon, December 31, 2018
9pm NYE Illumination Party
Classic Rock