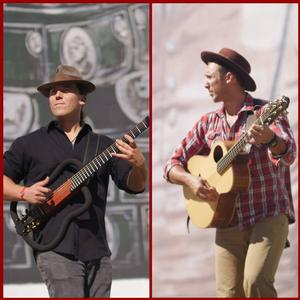 The Rectifiers
Acoustic, Pop, Rock

AKA Shaun Hopper with J. Klein! and a few other assorted players when duty calls.

This world-class duo does it all. They play classic covers from The Band, Paul Simon, Grand Funk Railroad, and much more in their own acoustic style. In addition, both men have terrific original music that they perform for their audience as well.

Shaun Hopper is known for his "fingerstyle" guitar skills. Shaun merges complex melodies, harmonies, bass lines, and percussion on his guitar. He is a true virtuoso. Shaun has opened for many great national acts and won competitions for his songwriting and finger-picking skills. He is one of the America's finest acoustic guitarists. "A rare jewel in the tapestry of the Tampa Bay music scene."
http://www.shaunhopper.com

J. Klein is an established songwriter and specializes in all roles required in the recording arts. In 2015, Songwriters Showcases of America named him Songwriter of the Year. He has performed in countless performances and logged many hours as a studio musician. J. Klein's CD: "Path Thru The Low Tide" is an assembly of original pop, folk, soul and blues-based songs, and is lyrically insightful. His voice and performances are passionate, genuine and distinctly American.
http://www.jkleinmusic.com/

Shaun Hopper and the Sun Kings is what you get when you put an incredible songwriter with and equally incredible guitarist! Add to the mix, great stage presence which includes humorous light banter and introspective stories where the audience might even find themselves in a sing-a-long or two. A great show, guaranteed to end with a standing ovation!

Upcoming Events
There are no upcoming events scheduled.



Previous Events