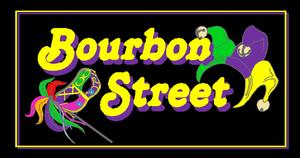 Bourbon Street of New Port Richey
4331 U.S. Hwy 19
New Port Richey, FL 34652
727-807-7971
Map View:
Click here
The Bourbon Street of New Port Richey. It's Back better then ever...........It's a beautiful upscale bar that is catering to a more mature and affluent crowd, which differentiates this club from many of its neighbors.
There are plenty of clubs for the 20-something set, and plenty of places for the retirement crowd, but THIS is the place for the rest of us!

Upcoming Events



LuvDogz video release party featuring: LuvDogz / Bullets First / Azzitizz
Fri, April 18, 2014









Past Events





UNPLUGGED w/ JOHN CORABI (Motley Crue & The Scream), KENNY MCGEE, & DROPSHOT!
Thu, April 3, 2014