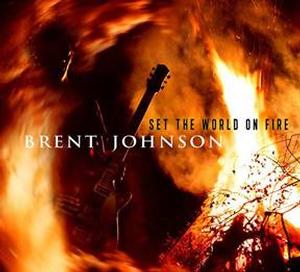 Brent Johnson and the Call Up
Blues, Jazz


A guitar prodigy from the age of four, South Texas born Brent Johnson always knew where he wanted his playing to take him. Drinking in the very best of Blues, Jazz, Rock, Punk, Country and World Music, by the time his family moved to New Orleans in his teens, he was predestined towards a career in music.
Writing his own material, Brent formed several high-school bands, all with a lean to the Blues, then joined 'Under The Gun', who built a considerable following on the local live circuit in Louisiana and beyond. As admiring of the style of The Clash, Albert King, Charlie Parker, Jimi Hendrix, Albert Collins or Black Flag and Thelonius Monk, Brents passion for playing was immediate and intense for his audience.
By serendipity, New Orleans' legendary 'Braille Blues Daddy' Bryan Lee heard Brent's playing and immediately recognized his virtuosity, drive and dedication to his Craft and to the Blues. At 22, Brent was seconded into Bryan Lee and the Blues Power Band with whom he has recorded and toured nationally and internationally for the past ten years.

Upcoming Events
There are no upcoming events scheduled.



Previous Events


Thu, March 24, 2016
7:00 pm
Englewood

Mon, March 21, 2016
7pm
Matlacha

Sun, March 20, 2016
7 to 10 pm $5
Sarasota

Sat, March 19, 2016
1:00 pm
Clearwater