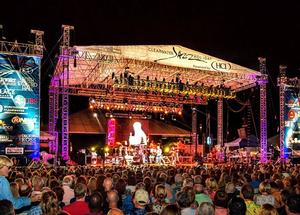 Clearwater Jazz Holiday
Jazz


An annual, international, music festival that draws tens of thousands of visitors each year to beautiful Coachman Park in Clearwater. The Clearwater Jazz Holiday's modern-day, diverse line-up also covers a wide array of musical styles: straight ahead and smooth jazz, swing, blues, jamband, folk, Americana, funk, and Zydeco and showcases a new generation of innovators and stars.

Clearwater Jazz Holiday programs are funded in part by grants from the State of Florida , Department of State, Division of Cultural Affairs and the Florida Council on Arts & Culture, the National Endowment for the Arts, the Pinellas County Commission through the Cultural Development Grants Program of the Cultural Affairs Department

The 4-day Jazz Holiday is administered by an all-volunteer staff, "The Jazz Force," which plans and executes the hundreds of services needed to accommodate more than 40,000 visitors during the third week in October.

Upcoming Events
There are no upcoming events scheduled.



Previous Events


Sun, October 16, 2016
1:30pm-10:00pm $yes
Clearwater

Sat, October 15, 2016
2:00pm-11:00pm $Yes
Clearwater

Fri, October 14, 2016
4:00pm-11:00pm $yes
Clearwater

Thu, October 13, 2016
4:30pm-10:00pm $16.00-$170.00
Clearwater

Sun, October 18, 2015
Daily $Tickets
Clearwater