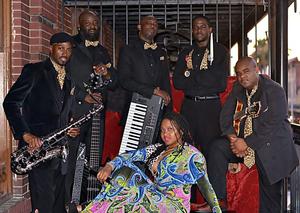 City Groove Band
Funk, Jazz, R&B/Soul


City Groove, one of Tampa Florida's hottest young bands has been electrifying audiences since 2003. The passion, love and dedication of making music bought the original members together with an instant connection.

City Groove's cultivating harmonies are R&B, Jazz and Neo-Soul blended together to create an energetic funky new sound. The rhythms will have you moving and grooving as the soulful sounds of the saxophone soothe your soul. City Groove is one of the most diverse bands in the world that will be sure to touch everyone in its audience as there original compositions cross over every genre from rock to gospel. City Groove has opened for Pieces of A Dream, Eric Darius and Betty Wright to name a few. City Groove is a live band, driven with a purpose to bringing soul back to music with melodic instrumentation and harmonic melodies.

Upcoming Events
There are no upcoming events scheduled.



Previous Events


Sat, July 23, 2016
7pm
Port Richey

Fri, June 10, 2016
7-10pm w/UF Jazz Combo $Tickets - Baranoff Theater
Safety Harbor

Fri, July 10, 2015
8:30pm $Yes
Tampa