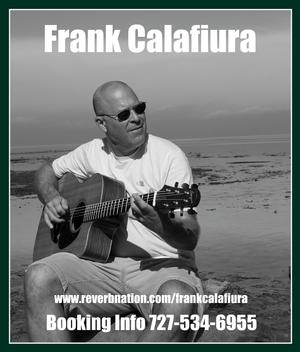 Frank Calafiura
Acoustic, Alternative, Americana, Bluegrass, Blues, Classic Rock, Contemporary, Country, Folk, Pop, R&B/Soul, Reggae, Rock, Rockin Blues, Southern Rock


I play and teach guitar for my living. I'm a solo musician doing a large variety of cover music. Check me out on Reverbnation where I currently am ranked #1 in Folk for the Tampa Bay area. Thanks and hope to see you soon!

Upcoming Events


Thu, September 28, 2017
4:00 p.m.
Tarpon Springs

Sat, November 11, 2017
5pm
Tarpon Springs




Previous Events


Sat, August 26, 2017
6.30 p.m
Dunedin

Tue, August 22, 2017
6 - 10 pm
Clearwater Beach

Fri, August 18, 2017
6pm-10pm $none
Lutz

Sat, August 12, 2017
6.30 p.m
Dunedin

Tue, August 8, 2017
6 - 10 pm
Clearwater Beach