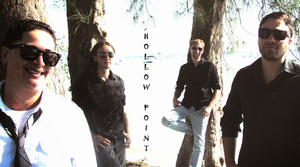 Hollow Point
Acoustic, Alternative, Blues, Classic Rock, Comedy, Contemporary, Country, High Energy Dance, Hip-Hop/Rap, Indie, Jam Band, Latin, Pop, Reggae, Rock, Rockin Blues, Southern Rock




Bri Rivera: Born and raised in Puerto Rico, Bri was braught up in a musical family. At age 9 she learned to play the cuatro from her grandfather. By age twelve she began to play the guitar and had her first band at 15. Now in the states for 9 years, she has become a standout in the local music scene.

Jon Shrader: Growing up in a musical family John got his first drum kit at age 12. By thirteen he was taking lessons from Sandi Greco. Now he is a junior at Southeast High where he plays lead snare in the drumline. John is also a bass player and spends his free time building and fixing instruments of all kinds.

Randy Bordon: Randy is a 24 year old Cuban immigrant. He began playing guitar at age 17 and quickly excelled. At age 18 he began to attend the Conservatory of Music in Cuba, where he studied the upright bass. He finds inspiration in all types of music, and is influenced by jazz rock, Jaco Pastorius and other cuban bass players. All this comes together to bring a great latin influence to the band..

Jim Beshures: Relatively new to the guitar Jim has had a passion for music all his life. When younger he played the violin and was involved with music through his church. His influences include classic rock and blues style music and he also learns quickly from his bandmates. In his spare time Jim repairs instruments and builds wood boats.


Upcoming Events
There are no upcoming events scheduled.



Previous Events


Fri, April 29, 2016
9:30pm - 1:30am
Sarasota

Fri, December 18, 2015
9:30PM - 1:30AM
Sarasota

Fri, November 20, 2015
9:30pm - 1:30am
Sarasota

Fri, October 16, 2015
9:30pm - 1:30am
Sarasota

Fri, September 18, 2015
9:30PM - 1:30AM
Sarasota