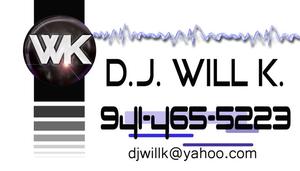 DJ Will K
DJ/Dance/Electronic, High Energy Dance, Pop


Will K. has been a staple of the Florida D.J. community since 1991, but actually started his musical path in 1979, at the ripe old age of 14. Since then, Will has been involved with music from Arizona to Florida and the entire East coast of the U.S., traveling throughout the 90's and 2000's, finally settling down on the Florida Suncoast. He has remixed for many artist's, and produced his own music. Will is a master class D.J., M.C., and party starter. He has the ability to breathe life into a room and get the people dancing. Visit his website for information on availability, booking and check out just a few of the remixes he has completed.

Upcoming Events
There are no upcoming events scheduled.



Previous Events


Wed, February 3, 2016
10 pm -2 am $0
Sarasota

Wed, January 27, 2016
10 pm -2 am $0
Sarasota

Wed, January 20, 2016
10 pm -2 am $0
Sarasota

Wed, January 13, 2016
10 pm -2 am $0
Sarasota

Wed, January 6, 2016
10 pm -2 am $0
Sarasota