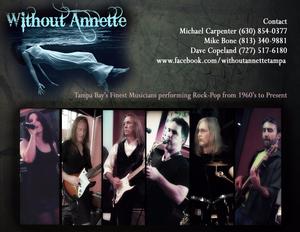 Without Annette
Alternative, Classic Rock, Pop, R&B/Soul, Rock


Tampa Bay's finest musicians originate WITHOUT ANNETTE. Not your average bar band, the goal is to cover tunes other bands will avoid, while presenting an image, a true show, more reminiscent of the bands of yester-year. We welcome a challenge, so you will not hear the same old tired covers from Without Annette!!! Rock/Pop/Dance from Duran Duran to Rainbow, from Kenny Loggins to Rush, Pearl Jam to Ghost...yes, we are very diverse!!! Without Annette will cover something that you will absolutely enjoy, and you will be surprised by the diversity of tunes! We keep the crowd the whole night!

Upcoming Events
There are no upcoming events scheduled.



Previous Events


Sat, February 17, 2018
7:00 p.m. - 11:00 p.m.
Tarpon Springs

Sat, January 6, 2018
9:00pm - 1:00am
Clearwater

Sat, November 25, 2017
9:30pm - 1:30am
Clearwater

Sat, November 18, 2017
6:00 10:00pm $Free
Tarpon Springs

Fri, November 10, 2017
9pm $0
Clearwater